Book Review: The Infinite Arena edited by Terry Carr
Science fiction, in a way, is a very broad genre, that can easily contain stories of other genres within itself.  Thus space westerns, fantastic romance, star war novels and so forth.   In this case, we have a sample of sports stories set in science fiction terms.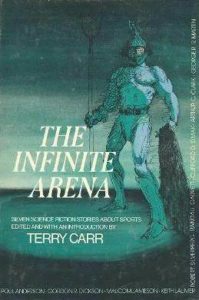 Lead batter in the lineup is "Joy in Mudville" by Poul Anderson & Gordon Dickson.  It's a Hoka story as the imaginative aliens that look like sentient teddy bears have taken up the sport of baseball.  As is their wont, they have assumed the identities of fictional ballplayers of Earth, including the Mighty Casey, their best batter.  Unfortunately, their latest opponents, the Sarenn Snakes, are masters of psychological warfare.  Alexander Jones, the ambassador from Earth, must summon one of his rarely-appreciated talents to save the day.  It's all very silly.
"Bullard Reflects" by Malcolm Jameson begins with the Space Patrol celebrating the Jovian armistice with athletic contests, including the sport of Dazzle Dart, played with flashlights and mirrors.  But it turns out not all the Jovians are honoring the armistice, and Captain Bullard's Pollux is sent to track down diehards who've taken over an experimental weapons testing station.  Things look dark for the Patrol when they are ambushed and disarmed, but Bullard figures out a way to make the situation a Dazzle Dart game…to the death!  A fine bit of pulp writing, but Mr. Jameson piles the awesomeness of his heroes a shade high.  Not only are they the fleet champions in Dazzle Dart, but are best at all the other athletic contests too, and the Pollux is the only ship in condition to fly when the crisis arises as all the others slacked off when peace was declared.
"The Body Builders" by Keith Laumer posits a future in which most people who can afford it store their physical bodies away and use humaniform robots by telepresence.  Dueling has become a frequent occurrence thanks to the more or less disposable extra bodies, and the protagonist is a professional gladiator.  Which is all well and good until he's tricked into a duel in his weak "pretty boy" body used for dates, as opposed to the monstrosity he uses for combat.   He sees no way out except to tarnish his honor temporarily in an effort to get to his backup bodies, but is eventually forced to resort to his original organic form–if this one dies, it's curtains!  Some of the celebrities name-dropped as body models are now obscure, which may make reading the story a chore for the young.
"The Great Kladnar Race" by Robert Silverberg and Randall Garrett has Earthlings stuck on a backwater planet try to create some excitement by organizing a race of the local beasts of burden.   The twist ending is one that could have been thwarted easily if any of the Earthlings had bothered to ask the natives relevant questions.
"Mr. Meek Plays Polo" by Clifford D. Simak involves space polo.  Don't know how that's played?  Neither does Mr. Meek, a retired bookkeeper now touring the Solar System in the spaceship it took him a lifetime to save up for.  But he did see a game once, which is more than anyone else in the rowdy frontier of Saturn's rings has to their credit.  So when the radioactive moss harvesters are talked into a game by a social worker trying to civilize them, Mr. Meek is drafted as a coach for one team, and eventually a replacement player.
As you might guess from his name, Mr. Meek is a timid fellow who tries to explain the reality of the situation, but no one is listening until he is so riled up that he bets his ship on the contest.  (Apparently, he keeps getting into this sort of situation.)  Oh, and there's an infestation of metal-eating bugs to deal with; that can't be good.  Things sort themselves out in the end.
"Sunjammer" by Arthur C. Clarke is more "hard" SF than most of the other stories, as solar yachts use the pressure of sunlight to have a race from Earth orbit to the Moon.  One of the ships is manned by the inventor of solar sails, after decades of work finally able to compete; but this will be his last chance.  Soon, solar flares will make it too dangerous to yacht, and he'll be too old for the sport by the time it's safe again.  This one has a bittersweet ending.
"Run to Sunlight" by George R.R. Martin is comparatively light considering his reputation.  A spaceport's amateur football league is thrown into chaos when a team of heavy-worlders apply to play.  The government doesn't want the coordinator of the league to reject the application as they're trying to keep a peace treaty going, and this is an obvious propaganda moment.  But the aliens prove to have major advantages in the sport, and the war may start again if they can prove how weak the Earthling really are.  Good use of strategizing and using strengths and weaknesses, but true victory goes to the person with their priorities straight.
I liked the Laumer and Clarke stories best.  The stories were written from the 1940s to the 1970s, so there are none that feature female athletes, and the few women that do appear are largely useless in plot terms.  (The Laumer story has the protagonist choosing between a young woman who hates artificial bodies but genuinely likes his personality and a flashier woman who wants to get married for a five-year trial period so she doesn't have to work anymore.)
Recommended to fans of "strange sports" stories and fans of particular authors who haven't seen these stories before.  Check interlibrary loan or the finer used book stores.