Book Review: A Game of Thrones by George R.R. Martin
About three centuries ago, the land of Westeros was known as the Seven Kingdoms.  Then Aegon Targaryen and his sisters came from the collapsed civilization of Valyria with their dragons and conquered six of the Kingdoms.  (The seventh Kingdom joined up later semi-voluntarily.)  Eventually, the dragons died off, but the Targaryen dynasty stayed in power through inertia and intermittent smashing of rebels. Finally, King Aerys the Mad was such a poor ruler that a rebellion led by Robert Baratheon and his supporters succeeded in overthrowing the Targaryens.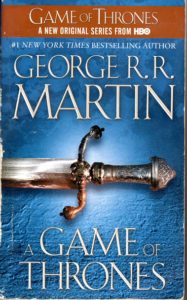 Robert is…a better king than Aerys, anyway.  He had intended to marry a member of the Stark family, lords of the North, but she perished during the rebellion and Robert settled for Cersei Lannister, member of a powerful Western family.  The Lannisters have become powerful at court, but one of their intrigues is about to have a slight glitch, putting their plans in jeopardy.  Other noble families have noticed the success of the previous rebellion, and remembered that their ancestors were also kings.   Across the Narrow Sea, the last heirs of the Targaryen dynasty are still alive and dreaming of retaking the Throne of Swords.  Far to the North, beyond the Wall, an enemy older than the Seven Kingdoms itself is stirring with the coming of Winter.
If this were a history book, we'd be about to see a lot of maps with flags and arrows on them.
This is the first volume in the vastly popular A Song of Ice and Fire series, which has spawned a TV series, Game of Thrones.  There are planned to be seven volumes, of which five are out and the sixth is scheduled for release in 2017.  This may mean that the TV show will need a completely different ending.  Mr. Martin started writing this epic fantasy series with the idea of making it more "realistic" (cynical) than  many of the doorstopper fantasy books then  on the market.  As such, things do not always go well for people who try to stick to ideals such as honor and justice, leading to cruel, pointless deaths for them or others.   I should mention here that yes, GRRM does go to rape repeatedly as a way of showing how gritty and realistic the setting is, and there are at least a couple of child marriages that are pretty creepy.  (I am told that the TV series aged a couple of characters up.)
This book is written in tight third-person, so we only know what the current viewpoint character senses and thinks about.  This allows the author to keep certain things a mystery until another character is the point of view, and to shade the interpretation of certain events.
Most of the viewpoint characters in this first volume are members of the Stark family.  Eddard "Ned" Stark is more or less the main protagonist of this book.   A childhood friend of King Robert, he's now been called upon to become the King's Hand, the person who handles most of the daily details so the king can concentrate on ruling.  Their mentor had been the previous Hand, but recently died, and his wife sent the Starks a letter accusing the Lannisters of having a hand in it.  Eddard is a very honor-bound man and constantly attempts to do the right thing.  Given the nature of this series, that's not healthy.  His clan motto is "Winter Is Coming."
Catelyn is Ned's wife, originally of the Tully family.  Her sister is the wife of Jon Arryn, the former hand.  Catelyn is fiercely protective of her children, which causes her to make several rash decisions.
Robb Stark is the eldest child and heir to their castle Winterfell.  At fourteen years old, he must assume a man's role before even his harsh homeland's usual standards.  We don't get any point of view chapters for him.
Jon Snow is allegedly Ned Stark's illegitimate child of about the same age as Robb.  While he certainly does resemble Ned, the older man's refusal to explain anything about Jon's conception or mother  beyond "he's my bastard" suggests there is some mystery about his actual parentage.  Catelyn doesn't like him one little bit.  He's sent North to the Wall to join the Nightwatch like his Uncle Benjen, only to find out that conditions there are not as expected.  (Benjen goes missing shortly thereafter, one of the big mysteries of the series.)
Sansa Stark is the older daughter, who is good at activities considered traditionally feminine in Westeros.  She's also a huge fan of chivalric romances, and thinks that's how the world works, at least for her as she's clearly the lady fair type.  (Think of an eleven-year-old Twilight fan who actually lives in a world where vampires follow horror tropes.)  She's engaged to Robert's handsome son Prince Joffrey and ignores some important clues to his real personality.  (In fairness, her father told her none of his evidence of what was really going on.)
Arya Stark is her slightly-younger sister, who is initially more likable for modern audiences, as she gets all of the "rebellious tomboy" personality bits.  She gets some important clues early on, but only being ten and not having context, doesn't get to do much with them.
Brandon "Bran" Stark is seven, and an avid climber.  This gets him in trouble when he passes by a window that should have been unoccupied and learns a dangerous secret.  His subsequent near-death experience causes him to forget what he learned, but the person whose secret it is can't take chances on that, and the assassination attempt made on Bran moves much of what Catelyn does for the rest of the book.
Rickon Stark is the baby of the family at three, and doesn't get any point of view chapters in this book.  Nor does family guest/hostage Theon Greyjoy, who is slightly older than Robb and Jon, and is boarding at Winterfell as a hostage to the good behavior of his father.
Tyrion Lannister is the only member of his family to get point of view chapters.  Born with dwarfism, Tyrion was barely tolerated by his father Lord Tywin and sister Cersei, and marginally treated better by his handsome brother Jaime (now a Kingsguard.)  Clearly never going to win glory in knighthood, Tyrion has concentrated on honing his mind, and his razor tongue.  He is kind to Jon Snow and later Bran, but runs afoul of Catelyn Stark due to the manipulations of his enemies.
And then there's Daenerys "Dani" Targaryen.  She and her older brother Viserys are the sole remaining grandchildren of the former king, and Viserys is thus the rightful ruler of Westeros for the Targaryen loyalists.  However, in exile in the Free Cities, their cause has not gone well, and the royal pair are broke.  In a last-ditch effort to raise an army which he can use to take back Westeros, Viserys arranges for Dani to be married to Khal Drogo, a mighty leader of the Dothraki horse nomads.
Despite his taste for child brides, Khal Drogo is a pretty good husband by Dothraki standards, and Danerys learns to love him.  Even better, their child is prophesied to become "The Stallion That Mounts the World."  Viserys isn't willing to wait until his nephew is born to start conquering things, and pushes a little too hard.  He probably never really understood what it means to "wake the dragon."
Don't get too attached to any of these people, Mr. Martin has no qualms about killing viewpoint characters in cruel and pointless ways.
Good things:  There are a lot of vividly-drawn characters in multiple factions–my edition has a list of the major clans and their members at the back, along with a timeline of the Targaryen Dynasty, and that still leaves out multiple members of the cast.  The politics are detailed but not too difficult to follow.  The main thing is that far too many nobles remember bad things that happened to their families decades and even centuries before, and operate on the principle of getting payback for that.
There are many twists and turns in the plot, so other than "someone's going to have a cruel and pointless death soon" it's hard to guess what's happening next.    Sometimes I did get frustrated by people making boneheaded decisions for stupid reasons, but the majority of actions made sense given earlier or later explained motivations.
Less good:  The content issues noted earlier; Mr. Martin likes him some earthy language too, and is overfond of the word "bastard."   This is rather obviously not a standalone book, with most of the plot threads still hanging loose at the end of Book One, and I am told many of them dangling through the end of Book Five!  Perhaps I should have stuck with my original intention of not starting until all the books are out.
To be honest, this series has had so much hype that you probably already know if you're interested in trying it.
Let's enjoy the Sesame Street version of the plotline!