Comic Book Review: Savage: Taking Liberties written by Pat Mills, art by Charlie Adlard
In 2000 AD #1 (1977), a feature entitled Invasion! began, created by Pat Mills.  Set in 1999, Great Britain is attacked and occupied by the Volgan Republic, which uses nuclear weapons to force a quick surrender.  Hardline anti-Volgans in the government are eliminated, and a puppet government led by Sir Simon Creepton now administers the People's Republic of Britain.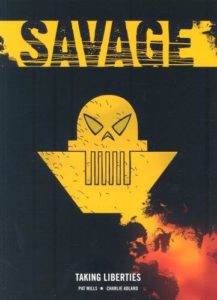 London lorry driver Bill Savage begins a one-man resistance to the invaders when his East End home is hit by a Volgan tank shell, killing his wife and children.  Bill's working-class common sense and brutally violent approach (he favored a hauling hook and shotgun for Volg fighting) prove effective, and soon others are inspired to also take up arms against the invaders.  Bill is recruited into the formal resistance forces, and eventually is assigned to get heir to the throne Prince John safely to North America.  The series ends with Bill hoping that now the Americans will move to help liberate Britain.
The series was written for bloodthirsty British schoolboys, and featured fairly black-and-white characterization.  Working class blokes like Bill Savage were good, the Volgan invaders (so named because editorial got cold feet about having the Soviet Union be the baddies) were evil Communazis, and the upper classes were either quislings, idiots, or in desperate need of spines that Bill would supply.
A bit later, a prequel story, Disaster 1990, was created, in which the Arctic ice cap melts, putting most of England underwater (and presumably causing similar devastation elsewhere.)  Bill Savage helps bring about a restoration of order, though he is suspicious of the new government (which will eventually fall to the Volgans.)  While entertaining on its own, the story raised more questions than it answered.
For a while, as 2000 AD began marketing to a slightly more mature audience, Bill Savage was shoved into the vault of mildly embarrassing early efforts.  But then in 2002, Pat Mills found he had new things to say with the character.  Mr. Mills had become far more politically aware, and thirty years of new history, including the actual circumstances of occupied nations under modern conditions, gave him ideas.  (The introduction to this volume claims that he met a British expatriate in Bulgaria that greatly influenced the new depiction of Bill Savage.)
Thus the appearance in 2004 of a new Savage series, the first storyline of which is reprinted in this volume.  The setting is now firmly established as an alternate Earth, with a different history that explains why things did not go as on our Earth, and incorporating real world technology that Mr. Mills had not anticipated in the original run.  (The 1990 flood is pointedly left out.)
The Americans are not coming, at least not yet, as their isolationist leadership doesn't see direct war with the Volgans as to their advantage.  The CIA does, however, have no compunctions about helping Bill Savage get back into Britain and aiding the resistance by back door methods.  Bill's death is faked, and he has plastic surgery to look like his probably deceased brother Jack.  (Jack having been at ground zero of one of the nuclear explosions.)
"Jack" makes contact with his sister Cassie, who runs a newsagent stand, and her not-all-there husband Noddy.  He comes up with a dubious but uncheckable explanation for how Jack's still alive, and joins the resistance.  Most of the people Jack interacts with quickly tumble to the fact he's actually Bill, but play along.
Bill participates in a number of resistance actions, which eventually lead up to a confrontation with the Volgan leader, Marshal Vashkov.  The fallout of this leads to the murder of Bill's other brother Tom.  Investigating this leads Bill to discover a high-ranking traitor in the resistance, and the book ends with the Volgans being pushed out of South England…at least for now.
There's considerably more shades of gray in this volume than in the original run.  The resistance's terrorist tactics don't sit well even with many of the people they're fighting for, and there are splits in the resistance between gangs that have different ultimate goals and ideals.  The politics of the original also get poked at.
The horrible things Bill Savage is willing to do to liberate his people have taken a toll on his humanity.  In a striking scene, we and Bill learn Marshal Vashkov's motives for invading and occupying Britain in the particularly brutal way he chose–only to have Savage reveal that he only wanted to make sure this was the real man and not a double; the story does not move him at all.
Content warning: torture and rape, as well as some gruesome violence.  A cute dog comes to a firey end just off camera.  The depiction of Noddy, who apparently had some brain damage due to a Volgan terror weapon, may be overly stereotypical of the mentally handicapped.
The black and white art does well in depicting the grit and shadows of Occupied Britain.  This one's for fans of dystopian science fiction with strong stomachs.