Book Review: The Art of Empathy: Celebrating Literature in Translation edited by Don Ball
This thick pamphlet is a collection of essays by literary translators on the art of translation.  It's a product of the National Endowment for the Arts, and is available from them as a free download (or in paper form at NEA exhibits.)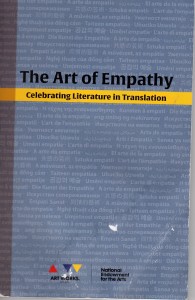 There are 19 essays by 20 translators (one is by a husband/wife team), and each also recommends three translated works that readers may enjoy.  That married couple concentrates on collaborative translation.  Also of particular interest to me was Philip Boehm's comparison of his work as a theatrical director to translation; both involve moving words on a page to a new form .
Chad W. Post writes about "The Myth of the Three Percent Problem, " the idea that too small a percentage of books published in the United States each year are works in translation.  He points out that even that tiny percentage are more books than any reasonable person could read in a lifetime; the real issue is getting the worthy translations to the people who could enjoy them.
In addition to the initial recommendations by the essayists, there's a list of other recommended reading for those who are serious about learning more.
I'd recommend this pamphlet to those interested in just what it is a literary translator does and how they approach the job.  Everyone, though, can benefit from reading translated works.  There's an entire world of books out there just waiting to expand your horizons.
And it doesn't have to be world classics or serious poetry if you aren't interested in that.  There's Norwegian crime thrillers (one coming soon), Japanese comic books, French lowbrow comedy, Chinese kung fu epics, Brazilian romance novels…something for every taste!
Tell me in the comments about a translated book you enjoyed, or that you're planning to read because you've heard good things about it.