Magazine Review: If May 1961 managing editor Frederik Pohl
If was a science fiction magazine that ran from 1952 to 1974.  It was considered a "second tier" magazine due to frequently low sales, but that should not be confused with "second-rate."  By 1961, If had become a sister magazine to Galaxy, publishing in alternate months.  Under editor Frederik Pohl, this magazine tended to publish newer writers and more experimental stories, while Galaxy on average worked more with popular established authors.  The cover for the May 1961 issue is "The Commuters" by Jack Gaughan, which has nothing to do with any of the stories.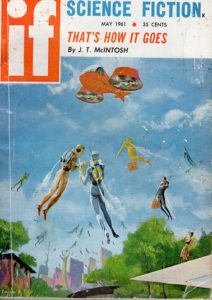 The lead story is "That's How It Goes" by J.T. McIntosh.  An overpopulated Earth needs millions of colonists for new worlds.  But it's only hundred thousands who volunteer.  So most colonists are those who've broken laws or rules.  Serious criminals are sent to hellholes like Roc, which is almost certain death.  But for relatively pleasant worlds like Aperdui, which just needs a lot of hard work, any rulebreaker will do.
Thus the seven candidates in the colony office are an actress who wore a see-through nightie on screen, two gluttons, a man who made too many shoes for his quota, a fellow who took a call from his girlfriend and let a food vat die, his girlfriend and the phone operator who let the call go through.  The operator gets a temporary stay, but the rest are shipped off to the new planet to start a farm.
One of the gluttons kills himself because he can't face life on just enough food to work, and is replaced by an experienced farmer.  We follow the fortunes of the group through their ups and downs, some succeeding and making Aperdui a decent place to live, others dealing with heartbreak.
At the end, one of the colonists becomes a recruiter back on Earth, facing the same sort of involuntary exportees he once was. There's a picture of a woman skinny-dipping in the distance, her back turned towards the "camera."  Notably absent from the story is the notion that Earth should perhaps limit its population by other means than emigration.
"Out of Mind" by William W. Stuart concerns a control freak bureaucrat who takes a "vacation" on a planet where the natives have illusion powers that make the place seem ideal, whatever that means to the individual viewer.  Many visitors never leave.  But Screed is ready with anti-illusion pills and a satellite that will disrupt the natives' powers.  He'll soon have them whipped into shape as a proper member of the galactic civilization!
Much of the story is Screed being set up to think it's his idea to go to the planet.  It's pretty clear his wife (who he allots fifteen minutes of scheduled sex a week) is in on the scam.  It's a well-deserved fate, but the ending is telegraphed.
"A Science Faction Story" by Theodore Sturgeon is an article on making money from going to space.  Specifically, the then-new idea of communications satellites, a business opportunity that can only be achieved through spaceflight, as opposed to being (Earth activity) in SPACE!
"The Connoisseur" by Frank Banta is set on a generation ship that has forgotten its past, and its goal.  A collector of rare items barters for a child bride with such things as the control knobs which used to be on the navigation panel…before the ship inhabitants killed the last navigator.  No happy ending here, kids.
"Seven Doors to Education" by Fred Saberhagen is an interesting piece about a  swimmer who finds himself undergoing a series of tests to unlock doors to escape wherever it is he's trapped.  Pete Kelsey's family didn't believe in education, and he's wound up with a steady but dead-end job sorting letters in the Chicago post office.  Now he has to learn, and learn fast if he wants to avoid drowning.  A bit of an infodump at the end, but Pete is faced with a decision that feels meaningful.
"The Useless Bugbreeders" by James Stamers has some interesting features.  The narrator is an advocate for alien species who don't want the expansionist Earthlings to destroy their homes for the ease of space travel.   He must defend them to a panel of judges who are none too thrilled considering the wacky things that happen.
In this case, his clients are the Bugbreeders, who are masters of creating specialty microbes.  He's brought along one of their scientists to perform some demonstrations.  Unfortunately, poor prior planning causes each of the demonstrations to have predictable bad consequences.  It looks like the Bugbreeders may lose their asteroid home, but there's one last twist.  This is one of those stories where the advocate and the client should have gone over the testimony in advance.
"Science Briefs" is a set of short science fact developments as of 1961, including a look at radiation therapy to treat cancer.  Fascinating stuff for science fans!
"Cinderella Story" by Allen Kim Lang concerns Orison McCall, a Treasury agent infiltrating a bank where weird things are going on by being hired as a secretary.  Such things as most of the bank's employees wearing earmuffs in mid-summer and the invertebrate farm upstairs.
Eventually, Orison learns that she's stumbled onto an alien power struggle.  The story is marred by most of the male characters treating Orison as a romantic target (and the other major female character assuming Orison is her romantic rival on the strength of Orison being pretty.)  This is especially irksome with the male lead Dink Gerding, who very specifically will not accept that "no" means "no", orders for his date at restaurants, and jumps straight from first date to marriage proposal.  Naturally, Orison is deeply in love with him by the end of the story.
"The Flying Tuskers of K'Niik-K'naak" by Jack Sharkey rounds out the issue.  It's a comedic tale about a pompous Great White Hunter being outfoxed by his native servant…in SPACE.  It's overdone, the narration pushing the hunter character well beyond pompous into actively abusive.
The Saberhagen story is the best in this issue, but the McIntosh story is also pretty good.  You can find all the issues of If on the Internet Archive.