Anime Review: Kill la Kill
In the indefinite future, Ryuko Matoi is the delinquent daughter of a mad scientist who arrives home after a long time away at school to find him murdered with one blade of a giant scissors.  The killer, too far away to identify, has the other blade.  Ryuko vows vengeance.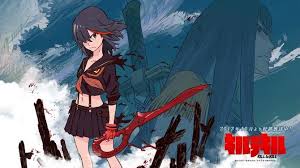 In the course of her investigation, Ryuko comes to Honnouji Academy, a school with a rigid social structure based on what uniforms the students are allowed to wear, from the powerless zero-star students, to the three-starred Student Council whose "Goku Uniforms" greatly enhance their superhuman abilities.  At the top of the pyramid is Satsuki Kiryuuin, a cold and tyrannical girl who seems to know something about Ryuko's quest.
Ryuko meets the very…special zero-star student Mako Makanshoku, who immediately decides that Ryuko is her new best friend (and Ryuko winds up bunking with the Makanshoku family.)  Ryuko also meets a number of one-star students, who she can easily beat up even without special clothing.  The two-star boxing club captain, on the other hand, is easily able to defeat Ryuko.  Being a bit brighter than many shounen heroes, Ryuko retreats.
Back at the ruins of her house, Ryuko stumbles across the insanely powerful uniform she will name Senketsu.  It's sentient, and forces itself on her in a very disturbing scene.  They don't get along at first, but Senketsu gives Ryuko the power she needs to return and defeat the boxer, declaring her intention to beat some answers out of Satsuki.
The first half or so of the series is Ryuko battling her way up the opponent ladder to get a good shot at Satsuki.  Then she (and the audience) finally get some answers as to what's really going on, and the scale of the battles enlarge.  There's much more at stake than one man's murder or who gets to be top dog at a high school.
This Studio Trigger production is by many of the people who created Tengen Toppen Gurren Lagaan and is similarly over the top.  It's also a homage to the work of Go Nagai, with Cutey Honey being an obvious influence throughout, and shades of Devilman coming in towards the end.
In addition to rather heavy violence, the series is kind of raunchy, with frequent nudity and some skeevy sexual molestation (mostly by the main villain.)  The nudity does serve a thematic purpose, as one of the running motifs is the relationship of people and their clothing, and the meaning of fashion.
If you can get past that, the series is a lot of fun with some great jokes and exciting action.