Book Review: Famous Nathan by Lloyd Handwerker and Gil Reavill
Disclaimer:  I received a copy of this book through a Goodreads giveaway for the purpose of writing this review.  No other compensation was requested or given.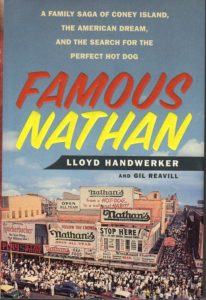 Nathan's Famous was the number one hot dog stand in the world for several decades, and synonymous with the Coney Island experience.  It was the creation of Nathan (originally Nachum) Handwerker, an immigrant who worked his way up from grinding poverty to being a successful businessman.  This book is primarily his story, told by his grandson.
According to the book, Nathan was born in a Jewish shtetl in Galicia (now part of Poland) in 1892.  At the time, the region was occupied by Austria, and was proverbial for its inhabitants' poverty.  His father Jacob was a shoemaker who was usually unemployed and his mother sold vegetables as a sideline whenever the chance came up.  Nathan grew up constantly hungry and early on decided he wanted to be in the restaurant business.  Over time, his hard work and good business sense got him enough money to buy passage to America in 1912.
To make it in business, you need a strong work ethic, canny business sense…and a walloping dose of good luck.  Nathan had all three, and by 1916 had learned enough English and accumulated enough savings to open his own "grab joint" selling frankfurters and lemonade from a tiny storefront on Coney Island.  His initial partner backed out when initial sales weren't good, but Nathan found a good price point and soon became able to stay open all year, expanding the store and his menu bit by bit.
After a year or so, the initially nameless joint became "Nathan's", and then "Nathan's Famous" as business boomed.  Nathan used a business philosophy of fast service, a limited menu and consistent high quality to grow his enterprise.  (This was later independently discovered by the McDonalds brothers, though the highness of quality is debatable.)
A big believer in family, Nathan brought over almost all of his clan from Europe as well as marrying and having children of his own.  He didn't let nepotism stand in the way of good business practice, though, once firing his older brother the same day he hired him for failure to follow procedure.  He was a very hands-on manager, and ran a tight ship; his contentious personality meant that he often fought with his top workers, but it also bred loyalty.  He integrated his staff very early on and was generous with benefits, but was firmly against unions.
Nathan's Famous was huge, and the book describes its interactions with American history.  But by the time Nathan's sons Sol and Murray moved into management positions under him, times were changing.  The brothers had clashing ideas about where the store and its brand should be going, and did not work together well.  Coney Island was losing its place as a tourist attraction, helped along by a city planner who wanted to gentrify the area.  (Unfortunately, his plans had the opposite effect, crashing the local economy and increasing crime.)  And chain fast food places became the standard.
The original Nathan's Famous has never closed, but is no longer in family hands, and in the modern day, it's more famous as a hot dog brand than as a destination.
Most of the material about Nathan's early life is derived from a single interview done with him by another of his grandsons, so should be taken with a grain of salt.  The book also talks about some Nathan's Famous legends and whether they are based on truth or the result of a public relations campaign.
There's quite a bit of time spent on the logistics and mechanics of running a grab joint in the early part of the Twentieth Century, which will be useful to people who have always wondered about that sort of thing.  There's also family drama, as well as details about some of the long-time employees.
To be honest, the book never really grabbed me, but I think it will be of great interest to hot dog aficionados and those who are nostalgic for the Nathan's Famous of yore.  Each chapter has a black and white photo heading.  Also, there are end notes (functional but lackluster) and a bibliography for further reading.