Magazine Review: Argosy October 8, 1938
Argosy began its life as The Golden Argosy, a children's weekly, in 1882.  By 1889 publisher Fred Munsey had discovered that the readers aged out too fast to keep the magazine viable, so he switched to fiction aimed at adult readers and shortened the title.  It's considered one of the first pulp magazines, and published many famous authors.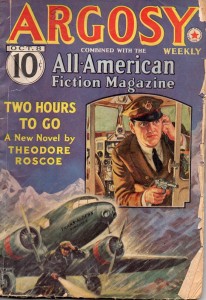 By 1938, the magazine had combined with several others, but continued to be weekly.  Rather than a specific genre, Argosy published adventure of all types.  Generally, it would have two or three  novel-length stories serialized, and then the rest of the magazine would be self-contained short stories.  Series of short stories were also common, bringing back a colorful character in different circumstances.
"Two Hours to Go" by Theodore Roscoe is the cover story (cover by Emmett Watson), with the first part of six.  A Trans-Andean flight is forced down to an abandoned airstrip by mechanical failure and stormy weather.  While the pilot goes off in search of the nearest place with a telephone, the passengers play a game.  "What would you do if you had only two hours to live?"  The man proposing the game has an ulterior motive–he knows a murderer is on board, and hopes to identify that person by what they say.
There's a character who is obviously supposed to be autocratic and eccentric publisher William Randolph Hearst (three years before Citizen Kane!) and his mistress, a faded movie starlet who clawed her way up from poverty.  Also an algebra teacher who hate schedules and a lawyer who wants to reform the legal system.  This installment ends with a poor little rich girl saying she killed a man–but does that make her the murderer?  Several nice monologues, and I'm glad it's not the story about the soccer players.
"Bluebeard's Closet" by H. Bedford-Jones is a weird story about Gilles de Rais and an encounter he supposedly had with Jeanne d'Arc after her execution.  There's a framing story about a museum of the occult called the Halfway House that a Joan of Arc scholar has been called to.   He and the narrator witness the events of the past…or do they?  And was that woman really Joan, or an imposter?  The world may never know.  I felt the frame story weakened the tale a bit.
"River Pig" by Robert E. Pinkerton sets itself in the woods of Wisconsin in horse and buggy days.  A lumberjack foreman who's just argued himself out of a job saves a young woman from a runaway horse, and consequently gets hired by her father, a rival logging baron.  As it happens, the baron is overextended in wheat, and cutting corners–so he decides to smash the foreman's previous boss (and best friend, even if they're not on speaking terms right now.)   Can a lowly river pig get the logs to the mill on time, put the crooked baron in his place and still win the heart of the girl?  I don't think it spoils the story to say, yes, he can.
"Death Had a Pencil" by Richard Sale reminded me a bit of Death Note.  There's this ancient Persian scriber that was used to sign death warrants.  Supposedly, it's been cursed so that anyone or anything that has its picture X-d out by the pencil dies within twenty-four hours.  But Captain McGrail of the NYPD smells a rat in the picture somewhere.  After all, curses don't really work…right?  Nifty story with a logical twist.
"Beat to Quarters" by C.S. Forester is part four of six of the first Horatio Hornblower novel written.  (Published as The Happy Return in Britain.)  It's sixth in the chronological sequence.  Captain Hornblower has been helping a South American revolutionary, El Supremo, against the Spanish, but has now learned that England and Spain are allies.  This means he must battle the very ship he just acquired for El Supremo.   This chapter is the first round of that battle, fought in the heart of a raging storm.  Both ships are heavily damaged, but the revolutionary ship is closer to a friendly port–can Hornblower's crew repair the ship in time and find the enemy in a trackless sea?   Great stuff.
"For Divers Reasons" by William E. Barrett is a boxing story.  A fighter fresh from the West is finding the boxing game more…complicated in the East.   When his love interest asks if he's going to take a dive in his upcoming fight, he can't honestly answer "no" and that bothers him.  On the other hand, he hasn't actually been told to lose….  Some brutal fight descriptions in this one.
"Weasel, Weasel" by Frank Richardson Pierce is narrated by No-Shirt McGee, an Alaskan prospector and series character.  A criminal is playing mind games with a deputy U.S. Marshal, and the law officer is rapidly heading for a heart attack.  Will his doctor's prescription cure–or kill?  So-so story.
"It's Hard to Die" by Walter Ripperger concludes with its third part rounding out the issue.  A man thinks his brother has committed suicide due to embezzling large sums of money, and is trying to get himself killed in a non-suicide manner to collect the insurance and pay off the debt.   He's finally found a gangster willing to do the job, but that criminal would like to keep the insurance money for himself.  Meanwhile, a police detective has figured out that the brother was actually murdered, and was not an embezzler.   Evil is paid unto evil, thanks to a descendant of the Borgias.  This is one of those stories where a crook could have won, getting out with an amazing amount of money, but he can't control his greed.
There are a couple of picture features, and an oddly amiable letter column.
Most of these stories will be hard to track down, but Beat to Quarters is a classic and you should be able to find it in any decent book store.  A fun read!