Book Review: The Invisible Library by Genevieve Cogman
One good way to introduce a new fictional character or world is to start off with a short adventure where the character gets to show off their competency and special abilities.  Usually this is at most loosely connected to the main plot which will show up after the mission is complete, being there to establish a baseline for the character's normal behavior.  Thus when we first meet Irene, she's infiltrating a Harry Potterish school of magic as the cleaning lady to steal a book.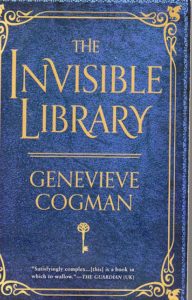 Irene (a codename) is an acquisitions agent for the Invisible Library, a mysterious organization that collects rare and unique books from parallel Earths.  Her title of "Junior Librarian" is somewhat misleading; she was born to two Librarians and made frequent visits there in her youth (and you do not age while in the Library) so she has years more of experience than she looks like.  Also, she suffered a career setback about a decade ago that made her look incompetent and gets her underestimated.
Irene's primary advantage besides her vast knowledge base (particularly in the field of books) is the Language.  Only those bound to the Library can use this paranatural ability; if Irene knows the right words to use, she can cause objects to do her bidding.  There are some severe limitations on what she can do with the Language, and using it tends to blow her cover, so Irene hesitates to solve her problems this way.
Upon returning to the Library from the first chapter mission, Irene has no chance to rest before being sent out on another case, this time with trainee Kai in tow.  Kai is impossibly handsome and has several secrets, some more obvious than others.
They're sent off to a world that has vampires, zeppelins, the Fair Folk and Great Detectives.  It's normally off-limits due to high Chaos contamination, so the Grimm variant they're after must be important.  The local Library agent explains that the book went missing after the previous owner's murder, presumably at the hands of notorious cat burglar Belphegor.
Complications soon heap upon each other.  Irene must work out which of the people involved is the real threat.  Is it Kai, who really does have too many secrets?  The deadly thief Belphegor?  Silver, the Fae ambassador of Liechtenstein?  The mad science-oriented Iron Brotherhood?  Rival Librarian Bradamant?  Earl Peregrine Vale, noted detective?  The renegade codenamed Alberich?  Or is it the Library itself?  And just where is that book?
This is a fast-paced adventure story with some neat worldbuilding and mostly likable characters.  The Language, chaos-spawned magic, draconic powers and technology all have their own strengths and weaknesses.  There's some "meta" stuff as well; a chaos-contaminated world tends to have things happen as they would in fiction rather than in "real life" with plenty of coincidences and narrative tropes.
There is one clanger of a scene in which Kai pressures Irene to have sex with him and has difficulty taking "no" for an answer.  It's meant to show that 1) Kai isn't quite as familiar with modern customs as he lets on and 2) Irene has had plenty of sex, thank you, but not with the person her colleagues think she did.  There could have been other ways of showing these things.
There's also the thing where everyone including Irene has a mysterious backstory, but we never get more than hints for most of them.
Primarily for folks who like the mashup of steampunk and fantasy.
Disclaimer:  I received a copy of this book from Blogging for Books to facilitate this review.  No other compensation was offered or requested.