Book Review: A Storm of Swords by George R.R. Martin
Note:  This review will contain SPOILERS for the first two volumes in the A Song of Ice and Fire series.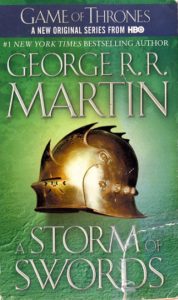 The Battle of King's Landing is over, and the forces loyal to King Joffrey are triumphant.  But the War of Five Kings rages on, with no part of Westeros left untouched.  Lord Tywin Lannister returns to power as the King's Hand after many years and his iron grip is soon felt both by the people of the land and his own family.
The various factions scheme and negotiate and betray, but all of this may soon be pointless as the Others gain strength and seek to slay all who live.
This is the third and largest volume so far in George R.R. Martin's epic fantasy series.  In a foreword, the author explains that the chapters from different points of view do not immediately follow each other chronologically.  Indeed, the first few chapters of A Storm of Swords take place before the last few chapters of A Clash of Kings, catching us up on some characters who were not at the Battle of King's Landing.
The members of the Stark family remain a plurality of the viewpoint chapters, but other folks are catching up.
Catelyn Stark takes a calculated risk in freeing Jaime Lannister to exchange for her daughters, which angers some of her son's bannermen.  Thus she has little room to talk when King Robb himself makes a major diplomatic faux pas.  (Robb still doesn't get a viewpoint chapter.)  With their alliance falling apart, will the King in the North be able to mend fences before his enemies regroup?
Jon Snow infiltrates the Northern Wildlings as he was ordered, in order to learn what Mance Rayder, the King Beyond the Wall, is up to.  Like many spies before him, Jon learns that the Free Folk are people not so different from those he has loved and sworn to protect, despite their odd customs and desire to invade his homeland.  It is a bitter pill to swallow, but realizing that you know nothing is the beginning of wisdom.
Sansa Stark, trapped at King Joffrey's court, continues to be a political pawn, valued primarily as a possible claim on the lands surrounding Winterfell, and if rebuilt, the castle itself.  She's forced into a political marriage which she will need all her courtesy and will to survive.  The wolf may be caged, but she has not forgotten how to wait.
Arya Stark may have escaped the ill-omened castle Harrenhal, but the land is still torn by war, and one thing after another delays her reunion with her mother.  Among other events, Arya falls in with the Bannerless Brotherhood.  Once the enforcers of the king's law, a change in government has made them outlaws who steal from the rich to give to the poor.  (For certain values of "rich" and "poor.")  Arya may need to cash in a certain favor if she is to survive on her own terms.
Bran Stark, presumed dead after the fall of Winterfell, is headed north with the faithful Hodor and the Reeds.  (He has parted company with Rickon, who still gets no chapters.)   His link with direwolf Summer continues to grow, and he learns new facets of his powers.
Tyrion Lannister, badly wounded by an assassination attempt during the Battle of King's Landing, finds himself fallen from power.  His father Lord Tywin grudgingly admits that Tyrion did a decent job as King's Hand, but is soon back to treating his little person son like dirt, including saddling Tyrion with a cruel arranged marriage.  Queen Cersei and her son King Joffrey also take every opportunity to mock and belittle their relative.  How much can one man take before he snaps?
Daenerys Targaryen has come to realize that while being the Mother of Dragons is way cool, her reptilian wards are not yet big enough to win Westeros for her alone.  She needs an army, but where to get one?  Dani's also finding that celibacy is becoming a harder stance to hold than when she was newly widowed.  Ser Jorah Mormont loves her, but the queen doesn't love him that way back.
We don't get any chapters from Theon Greyjoy's perspective this time, though he is reportedly still alive and in possession of at least some of his skin.
Davos Seaworth, on the other hand, managed to survive the burning of the Blackwater, and returns to the service of King Stannis Baratheon.  The King of the Narrow Sea has been listening to the counsel of the Red Priestess Melisandre, and is prepared to sacrifice his nephew Edric Storm if that's what it takes to gain enough power to rule Westeros.  Davos makes what is perhaps the smartest choices in the book when he realizes that Melisandre may be reading her prophetic visions backwards.
New to the list of point of view characters is Jaime Lannister, known as the Kingslayer.  Released in the custody of the female knight Brienne in order to get back to King's Landing in exchange for the Stark daughters, Jaime must cross a hostile land with almost every hand against him.  We learn the reason he became the Kingslayer, and Jaime has to face up to how his past misdeeds have helped put Westeros in the mess it's in.  Like Arya Stark, Jaime just keeps getting delayed on his journey until it is perhaps too late.
Finally, we follow Jon Snow's less combat-effective friend Samwell Tarly, a steward for the Night Watch.  While Jon goes off on his secret mission, Sam assists the other Black Brothers in their scouting mission beyond the Wall.  The Others are deadly, but what may finish off the Night Watch might be treachery in their own ranks.
This is the book that really cemented the series' reputation for having anyone die at any time, and kills off major and minor characters left and right.  (One character who seemed like they were going to be very important in the second volume dies offhand in a single sentence here.)  But that comes with a caveat that anyone who is only reported as dead may in fact be alive, and being dead doesn't mean not making any more appearances.
The big theme of the book is marriage; there are multiple weddings, none of which turn out particularly well.  There's also several songs that recur throughout, most notably the bawdy "The Bear and the Maiden" and "The Rains of Castamere", which has more sinister connotations.
Parts of the book do become a slog as there are multiple characters trying to get from one place to another and not getting there over and over.  A couple of the Stark family just miss meeting each other, and some plot twists are gratuitously cruel.  (As are some actions taken by the characters.) A few of the mysteries in the first two volumes are solved, for what it is worth.
As always, there is plenty of gory violence, some sex, attempted rape of major characters and off-camera rape of minor characters, and great steaming heaps of rough language.  Torture takes place off-stage as well.  But if you weren't warned by the first two volumes, there's not much I can say.
There's some nifty world-building, and a handful of great scenes.  Primarily recommended to people who liked the earlier books in the series.
And now, a song!