Manga Review: Showa: A History of Japan 1939-1944 by Shigeru Mizuki
This is the second volume of Shigeru Mizuki's history manga (I have already reviewed the first and third.)  This volume covers most of what Americans call "World War Two" and the Japanese call "The Pacific War" as they had already been at war with China for years by the time the rest of the world went to armed conflict.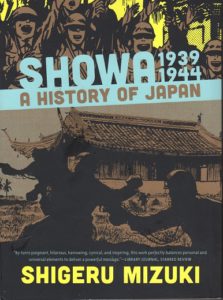 As with the other volumes, the author covers not only national and world events, but his personal experiences.  Mr. Mizuki depicts himself as a dreamer who puts little effort into school or work, being expelled from both, but enthusiastically pursues whatever knowledge catches his interest.  When he is finally drafted, Mizuki is also an incompetent soldier (much like the American Sad Sack) who blows his chance at a relatively cushy spot as a bugler and instead is shipped out to Papua New Guinea.  (His gentle nature does, however, allow him to make friends with the natives.)
Having bit by bit become a military dictatorship, and with the Soviet Union looming on its doorstep, the government of Japan felt comfortable allying itself with Nazi Germany (and then Fascist Italy) against their common foe.  Japan was then confused when Germany made a non-aggression pact with Russia (and they followed suit) only to invade the Soviet Union a year or so later.  Meanwhile, the Japanese military continued trying to liberate/take over their neighbors in the Greater East Asian Co-prosperity Sphere.
Japan was also beginning to run out of vital war supplies like steel and oil, and their biggest supplier, the United States, was turning increasingly hostile.  The U.S. government, led by president Franklin D. Roosevelt, cut off the supplies.  Japanese ambassadors did try to negotiate, but the American idea of compromise was "give up all territories you seized in war, and we'll sell you just enough to keep the lights on at home."  Understandably, the Japanese military government found that offer insulting at best.
And so Pearl Harbor and the subsequent Japanese attacks across the Pacific territories of the Allies.  At first, the Japanese scored victory after victory.  Given the nature of some of the colonial governments, in certain places they were even greeted as liberators.  (Though most soon learned that the Japanese had no intention of allowing them true independence.)  However, this had two bad side effects.  First, many in the Japanese military began suffering from "victory disease", believing that the Japanese forces were invincible and the war could be won easily.  Second, instead of demoralizing the Americans into giving up as was the plan, the attacks instead stung the complacent public into patriotic fervor and willingness to do whatever it took to beat the Axis.
As the war wore on, the United States' superior production capability, advanced technology and ability to read Japanese codes turned the tide.  The Japanese government, led by Hideki Tojo, decided to just flat out lie to their citizens by never admitting setbacks or defeats.  Increasing rationing and crackdowns on free speech told the Japanese public that things were going badly, but they had no idea how dire the war had become.
The Japanese army is depicted as brutal, with soldiers suffering constant physical abuse from their superiors (who were physically abused by their superiors and so on.)  In this volume, young Private Shigeru gets the worst of this treatment.  Our protagonist misses out on comfort women only by virtue of being too far back in the line when the brothel closes to evacuate.  There's also some body function humor.
The Bataan Death March is depicted as less a deliberate atrocity than the result of horrific failure of logistical planning.  And Shigeru's brother off-handedly does something that will later get him tried as a war criminal.
There are footnotes explaining some military terms (some so basic as to seem silly, but perhaps the equivalent Japanese terms might be unfamiliar to young readers) and extensive end notes.
The volume ends with the mission that will eventually lead to Shigeru Mizuki losing an arm.
As with the other volumes, Mr. Mizuki's art varies between his usual scratchy,cartoony style and more "realistic" depictions.  Some of the war scenes make it clear he could have done straight-up war comics if he'd so chosen.
Highly recommended to those interested in learning about World War Two from the Japanese point of view, and fans of Shigeru Mizuki's other work.
And here's a song about Rabaul, the airfield Shigeru was stationed near.