Book Review: Kings & Queens of Great Britain: A Very Peculiar History by Antony Mason
For about 12 centuries, the English have been ruled by monarchs, and eventually this form of government spread to all of the British Empire.  That's a lot of history, and many kings and queens to take account of.  This small volume with cartoony illustrations gives the reader an overview of those people and what they did.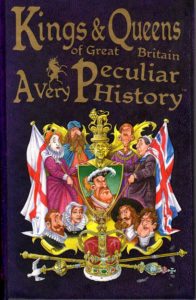 There's a brief discussion of monarchs before the official first king of the majority of England, Alfred the Great, starting in 871 C.E.  This includes the legendary King Arthur who may or may not have been based on an actual person.  After that is a chronological listing of English kings and queens, with a paragraph or page for each, with chapters cutting away to the Scottish monarchs.  (The Irish kings do not get the same courtesy.)  With King James I & VI, the lines are consolidated, and after that they're all British kings and queens.
This is very much a highlights-only history book, with only the most famous bits of each reign mentioned for most of the monarchs.  There are, however, frequent sidebars on such subjects as palaces, revolutions, jewels, the Magna Carta and mistresses.  The serious scholar of British history is unlikely to learn anything new.  The book finishes up with a glossary, timeline, and index to make it easier to find the particular monarch you're looking for.  It's current as of January 2015.
Due to some salacious subject matter, I'd rate this as suitable for senior high students on up.  (There's also a lot of violence; many of these people left the throne via murder.)  This would make a nice gift for your Anglophilic friend or relative, or Game of Thrones fans who have somehow never read the history that show is loosely based on.