Comic Book Review:  Essential Killraven Vol. 1 by various
In the far future Earth of 2018, the Martian invaders rule.   Having learned their lesson from their last attempt, this time the Martians immunized themselves against Earth diseases, and neutralized the humans' nuclear stockpiles before landing.  Scattered free humans scrabble for survival in the ruins of their civilization while their alien overlords make over the planet in their own image.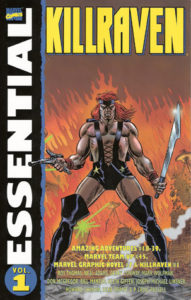 Many of Earth's scientists were brought over to the Martian side, and became the Keepers.  Perhaps the greatest of these was Keeper Whitman, who had created a fine gladiator for the masters.  Jonathan Raven had been captured young (and his younger brother Joshua shipped elsewhere) and physically enhanced by Keeper Whitman into a superior combatant.   The young man gained the gladiator title Killraven for his skill.
Killraven yearned for freedom, and eventually managed to escape with a small group of allies.  Later, they raided the citadel of Keeper Whitman, and Killraven got his revenge on the corrupted scientist.  To Killraven's surprise, Keeper Whitman thanked him for killing him and revealed that Whitman had enhanced Jonathan for the specific purpose of overthrowing the Martians.  But he did not reveal the full extent of his experiments.
Now Killraven and his Freemen have a glimpse of a goal–but where to go from here?
This interesting series took concepts from H.G. Wells' War of the Worlds novel and ran in Marvel Comics' Amazing Adventures from #18 in 1973 to #39 in 1976, with a graphic novel that concluded the main plotline published a bit later.   As a low-selling series that could be cancelled at any moment, the creators were free to experiment.  Writer Don McGregor and artist P. Craig Russell took full advantage of this, with some innovative storytelling, painterly art and also the first serious interracial kiss in American color comic books.
Early in the series, Killraven learns that his brother Joshua is still alive in what used to be Yellowstone Park, and the Freemen start making their way cross-country to there.  Unfortunately, there are no surviving maps, and our heroes get turned around while escaping from Chicago, winding up in Florida.
Thus the graphic novel involves the Martians moving Joshua, now known as Deathraven and somehow some years older than Jonathan, to Cape Canaveral as part of a trap for Killraven.
The series' connection to the Marvel Universe is tenuous, consisting of one time-travel trip by Spider-Man (later explained as an alternate timeline) and a hallucinatory scenario that may simply have involved a comics fan's memories.
The art and writing are excellent, particularly in the back half of the series, though the glimpses we see of pre-invasion future America are inconsistent and perhaps poorly thought out.  P. Craig Russell does some nifty monsters!
Also amusing is Killraven's original outfit, which is one of the few male costumes of the period to match the stripperific costumes foisted on female characters.  (He quickly switches to a slightly less ludicrous outfit.)
Recommended to fans of Marvel's less mainstream comics, and to fans of P. Craig Russell.  (The black and white reprint does muddy the graphic novel's art a bit.)
And here's a trailer for another War of the Worlds sequel: