Open Thread: Minicon 52
I was fortunate enough to attend the 2017 iteration of this venerable science fiction convention thanks to the generosity of another member.  As usual, Minicon was held over Easter weekend at the Bloomington Doubletree (known as the RadiShTree to longtimers.)   This may or may not be the last year at this hotel as the convention committee (concom) is renegotiating the contract.  My new home location made a different bus route seem better, and the trip to the hotel went smoothly, arriving early Friday afternoon.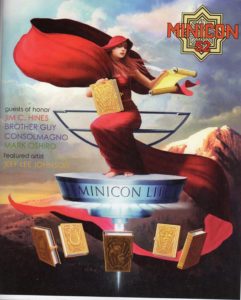 I obtained my badge (as a "ghost member" my badge name was "Inky") and set about catching up with some folks I only meet at these conventions.  These conversations happened off and on during the convention; in other idle moments I read Nathaniel Hawthorne's Twice Told Tales (see my review in a previous entry.)
The first panel  I attended was "Speaking the Words" about interpretive reading.  I got some advice on dealing with a sore throat from Guest of Honor Mark "Mark Reads" Oshiro.  After that, I went to the Film Room for a documentary about Charles Beaumont, a brilliant but short-lived writer who did some of the best Twilight Zone episodes.  It concentrated almost entirely on his active writing years, only dipping into his early life late in the film for a possible explanation of his health issues.
Opening Ceremonies was fun as usual, but there was a somber moment as we remembered important convention members who had passed on this last year, including the long-time head of Children's Programming.
Not able to afford a hotel room this year, I got on the bus to return home and rest up for a marathon session the next two days.
Back early Saturday morning, I found a lot of material from past Minicons on the freebie table, including a furry comic guide to Minicon from back when it was one of the largest cons in the Midwest.  Sadly, I am trying to cut down on things I need to store, so I did not pick up any.
I attended the "Lazy Writing" panel (get a beta reader and a professional editor!) and "The Hugo Finalists" panel (voting much more robust and the finalists less controversial this year.)  The "SF and the TV Revolution" panel gave me many suggestions for things I will want to binge watch at some point.
Technical difficulties made the "Trailer Park" event with Fastner & Larson in the Film Room something of a chore; they tried to fill the time with anecdotes, but were often hard to hear.  Once all the hardware and software were talking to each other, the movie trailers were fun to watch.
After that was the "Self Publishing" panel (get a professional editor!) where I put in my two cents as a reviewer who often reads self-published works.  (I should mention that despite my tight budget, I was able to obtain several books at the convention, and reviews will be forthcoming.)  The Jim C. Hines reading and signing completed my official programming interaction for the day.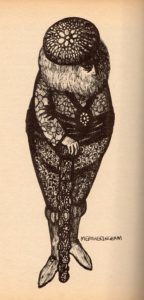 I enjoyed the parties, including the Social Media party (formerly the Livejournal party before the latest nonsense chased away many of the members.)  I played a Perry Rhodan-themed game with Richard Tatge,(he won) and then a long bout of Cards Against Humanity in the Seamstresses' Guild party room (no winners or all winners, depending on how you look at it.)  After that, I watched old MST3K episodes in that room until dawn.
I went to the nearby convenience store to buy an energy drink, only to discover they wouldn't be open until 8 A.M.!  But the weather outside was brisk enough to dispel some of my grogginess, and I was soon able to get strong tea and breakfast in the consuite.  A big thank you to the Consuite volunteers!
I attended "The Business of Writing" panel (don't sign anything you don't understand.)  Then I was invited to sit in on the "We Love Anime" panel as Lois McMaster Bujold was unable to make it (new book soon!) and I am moderately well-versed in the subject.  More on that in a later post.
The "Intersection of Art and the Law" panel was hosted by an actual lawyer (Disclaimer:  this panel does not establish an attorney-client relationship, if you're in trouble get your own lawyer.)  Some useful tips, but I didn't write them down.
The "Mega Moneyduck Reveal" was in the main ballroom, and the venue was far too large for the event; we wound up all crowding onto the stage itself so we could see.  The game proceeded from the Vatican's meteorite collection at the start to a failed romance at the end.
One more trip to the consuite to pack in calories for the long journey home, and then it was Closing Ceremonies time.  I'm afraid I was getting groggy again, so no clear memories.  The bus trip home was longer than expected as the route I picked only runs once an hour on Sundays, live and learn.
A fun weekend, and I look forward to the next Minicon, wherever it may be!