Book Review: Rain of the Ghosts by Greg Weisman
Rain Cacique may have just hit puberty, but her future is already locked into place.  Rain is going to stay here in the Ghost Keys near Florida, the Prospero Keys to outsiders, and serve the tourist industry in some way.  Just like her parents and grandparents before her.  She's never going to see the outside world, to be a tourist herself, or have her own career.  True, her grandfather did once leave the islands during the war, but that was long ago, and he doesn't talk about it.  She herself will never escape.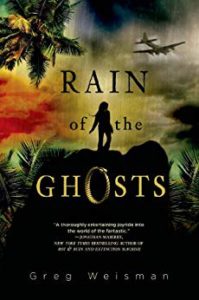 Or at least that's what Rain assumes.   When her grandfather dies, he leaves her an armband of two golden snakes intertwined, and strange things start to happen.  With the aid of her best friend Charlie, new girl Miranda, and the mysterious Dark Man, Rain will have to face ghosts both literal and metaphorical to unlock the secrets of the Ghost Keys.
Greg Weisman is best known for his work on the popular animated show Gargoyles, including some writing credits.  Rain was repurposed from a television project that fell through into a series of young adult novels.  (Two are out, with a third planned.)
Good stuff:  There's a neat twist on the semi-omniscient narrator, and trying to figure out just what's going on there is part of the fun.   Also, I like the multiple layers of meaning in the title.
The writing does a good job of establishing Rain's character and initial dilemma, as well as the special subculture of island kids she belongs to.  There are plenty of exciting bits once we move past the long setup phase.
The Dark Man is a fun character, despite being scary at first.  And the resolution to the Dark Man's secret is very satisfying.
Less good:  Charlie's unrequited and unnoticed crush on Rain feels cliche, and perhaps unnecessary.  Miranda, the girl who's been so long away that the others mistake her for a tourist, is woefully underused.
The roots of this as a television series are painfully obvious in a scene towards the end which sets up a formula for each subsequent volume.  (I think this will be less of an issue for actual young adults.)
Recommended for junior high readers on up.