Manga Review: Hayate the Combat Butler Vol. 2 by Kenjiro Hata
Nagi Sanzenin, for all her wealth, is a lonely 13-year-old girl who must constantly be on guard against those who would harm her to gain some of her money, even her own relatives.   On Christmas Eve, Nagi is saved from kidnappers by an outstandingly athletic boy named Hayate Ayasaki, and falls in love with him.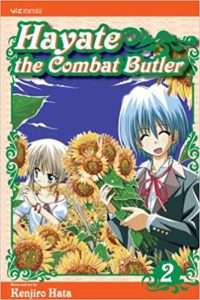 What she doesn't know is that Hayate originally meant to kidnap her himself!  This luckless 16-year-old had his internal organs sold to the Yakuza crime syndicate by his callous gambling addict parents to pay off their debts as they were leaving town.  In desperation, he thought of holding a rich girl for ransom, but wound up defending her from other kidnappers.
Nagi buys off the Yakuza, but now Hayate owes her the money, and becomes her "combat butler", a combination bodyguard and manservant.
This gag manga ran from 2004 to 2017 in Weekly Shounen Sunday, and had several seasons of anime adaptation.  It combined elements of romantic comedy, shounen battle, and fourth-wall breakage as the characters make frequent reference to other manga and shows.
As it happens, the second volume is the one I have to hand.  It's only been three days since Hayate came into Nagi's service, but a lot has already happened.  In the opening chapter, Hayate has a few moments to talk with Nagi's pet tiger, Tama.  Tama pretends to not be intelligent around his mistress, and kind of resents that she likes this new kid.  Their discussion is interrupted by the return of Nursing Robot #8, seeking revenge for its earlier defeat.
Then Nagi's loud, obnoxious "friend" Sakuya shows up.  Sakuya thinks she's a comedian and tries to rope others into her act, including poor Hayate.  Worse, her comedy act is very physically punishing to Sakuya's partners.
Nagi insists on going to the beach to watch the sunrise on New Year's Day, but the transportation situation doesn't work in Hayate's favor.  For New Year's Day proper, Nagi must visit her hated and even wealthier grandfather Mikado Sanzenin at his mansion.  While on the estate, Hayate meets a strange gardener who seems to know too much about him, and gives Hayate a strange pendant.  This is actually Mikado (who he's met before but that won't be revealed for a while.)
Mikado has changed the conditions of his will.  Nagi is the presumptive heir as Mikado has no other direct descendants, but anyone who can make Nagi cry and apologize to them will inherit the whole estate instead.  Within minutes, Hayate is already having to defend Nagi against a distant relative of hers.
Next, Hayate is sent into town with a new expensive cashmere coat and warned not to get it damaged or stained.  Naturally, immediately he is confronted with multiple dangers specially designed to attack cashmere.  To top it off, our hero runs into a lost girl he thinks is being pursued by criminals.  In reality, she's Nagi's friend Isumi and the men after her are her servants.  Hilarity and a ruined coat ensue.
Messed up from this and the subsequent maltreatment by an angry Nagi, Hayate spends a chapter in bed being nursed by his mistress.  Too bad she has no skill at nursing or cooking, and too much pride to admit either.
Finally, a new guest arrives at the Sanzenin manor, Wataru Tachibana, a spoiled brat who happens to be Nagi's fiancé.  There's some character profiles and bonus gag strips at the end.
This is an important volume for understanding the series, as it introduces several characters who will remain important throughout the story, and sets up one of the major subplots that will drive conflict.
Despite this being a gag manga, there is a serious undercurrent that pops up from time to time as we learn more about Hayate's abusive parents and otherwise tragic backstory.  They're also used for comedy, which can cause some emotional whiplash.
Many of the jokes are funny, though quite a few rely on slapstick violence.  The art is adequate but the young characters suffer from "same face" so hairstyles become important.  Romantic misunderstandings proliferate as the series winds on.
I think this series will play best with romantic comedy fans who can handle the clash between absurdist humor and very serious moments.
And here's an anime opening theme!