Manga Review: Mobile Suit Gundam Thunderbolt 1 by Yasuo Ohtagaki
The time is Universal Century year 0079.  The place is Thunderbolt Sector, formerly the orbital space colony Side 4 before it was destroyed in a battle between the Principality of Zeon and the Earth Federation.  Now this sector is heavily littered with debris, and afflicted with random electromagnetic discharges that gave it its name.  It's a key point in the supply lines for Zeon, and as such is guarded by the deadly snipers of the LIving Dead division.  Their top sniper is Chief Petty Officer Darryl Lorentz.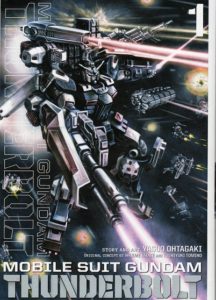 Assigned the task of clearing out the snipers and cutting the supply lines is the Moore Brotherhood, survivors of Side 4.  It's clear to everyone aboard their mothership that the Federation considers them expendable, but this sector used to be their home.  Their ace is Ensign Io Fleming, an eccentric young man who used to belong to Side 4's nobility.  This battlefield will come down to the clash of these two men.
The Mobile Suit Gundam franchise was the progenitor of what's called "real robot" mecha stories.  It aimed for greater plausibility than previous giant robot stories by introducing weapons that ran out of ammunition and engines that used fuel.  It also had the giant robots being devised initially as powered spacesuits for space colony construction, and evolving from there, only to be repurposed as military weapons.  And to explain why these huge targets weren't just hit with missiles from miles away, the original creators came up with "Minovsky Particles" that temporarily block radio and radar signals in war zones, requiring the mecha to get up close in order to hit opponents.
In addition, the Gundam series of series depicts the futility and waste of war; sympathetic characters die, the "good guys" don't always win, and sometimes it can be tough to tell which side of a conflict are the good guys anyway.
Thunderbolt takes place in the "Universal Century" timeline established in the original Mobile Suit Gundam anime, and is a side story happening at approximately the same time.  Numerous orbital colonies have been built, as well as other colonies further from the Earth, and some of them have prospered to the point they'd like to be independent.  Also, humans have been born in space with ill-defined psychic powers that better suit them for life in outer space; these are often referred to as "Newtypes."
The Principality of Zeon, a militaristic colony, has decided to go beyond independence and conquer Mother Earth, as it is their destiny to rule over all space.  They have a lot of Germanic influence, and their government is basically Space Nazis.
But that doesn't mean individual people working for Zeon are evil.  Daryl's family were apparently merchants who worked for Zeon in another country before the war, but weren't actually Zeon citizens.  So when Zeon and its collaborators were kicked out of there, the Lorentz family found themselves trapped in a refugee camp.  Zeon had a "service guarantees citizenship (would you like to learn more?)" program, so Daryl joined the military.
Daryl got his legs blown off in combat, and as a reward, his family was moved out of the camp and into an apartment, and his sickly father is finally being treated in a hospital.  But full citizenship only comes with completing military service, so Daryl was fitted with prosthetic legs and reassigned to the Living Dead division, snipers who have all lost body parts and been fitted with prostheses.  They're all well aware that they're being used as test beds for experimental upgrades (and aesthetics are not a big concern to the Zeon brass), but that's life in the military, and at least scientist Karla Mitchum seems to care about them as human beings.
Daryl loves cheesy J-pop music and deals with phantom pain.
Io Fleming, by contrast, loves free jazz and practices drumming in his cockpit when not in combat.  He was uncomfortable as a young noble on Side 4, preferring the freedom of piloting small planes.  Io's uncomfortable with the idea that he must seek revenge for his destroyed homeland, even if he does have some lingering resentment about that.  He's rude, bucks rules whenever he thinks he can get away with it, and makes a point of taunting Daryl about his prostheses.
But he is much nicer to his sole male friend Cornelius, and Acting Captain Claudia (who used to be his girlfriend before her promotion made that impossible.)  Despite his disdain for his own social class, Io is despised by Executive Officer Graham, who blames the nobility of Side 4 for its destruction.  And there are hints that there's more to Io's issues than we see in this volume.
The art is detailed and when we see faces, it's easy to tell people apart.  However, the very busy debris fields and multiple giant robots can make for confusing layouts, especially since the black and white art doesn't have the color cues that would make the machines more distinguishable.
This volume is primarily set-up of the main conflict and the various characters' subplots, interspersed with exciting giant robot combat.
This manga was originally published in a seinen (young men's) magazine, though the only strong indicator of that in this volume is a flash of one character's pornography in an unguarded moment. There's also the standard violence associated with war stories.  Viz rates this as "Older Teen."
This story relies heavily on the reader's presumed familiarity with the background established in the original Gundam series, so I would recommend it only to those fans.  It would not be the best first introduction to the world.
There's an anime adaptation, of course, and here's the trailer for that.