Book Review: America In So Many Words by Allen Metcalf & David K. Barnhart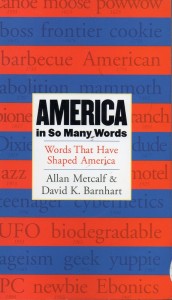 American English is its own animal, with a vocabulary that marks it out from British English.  This volume traces American history through the words that have been important to or invented by Americans.  It's set in roughly chronological order, from "canoe" (1555) through "gerrymander" (1812) to "millennium bug" (1998.)  The authors admit to a certain amount of fudging, with some words discussed in the year they were invented, others when they became common and some when their usage changed.
Most of the entries are entertaining, full of useful or exciting facts.  Some words' origins may be very familiar to educated readers, while others are obscure.  The indexes in the back are both alphabetical and chronolgical for easier searching.  The illustrations are somewhat sparse.
This is a good book for both the American history student and the lover of words.