Book Review: Narrative Structure in Comics: Making Sense of Fragments by Barbara Postema
Disclaimer:  I received this book as a Goodreads giveaway on the premise that I would review it.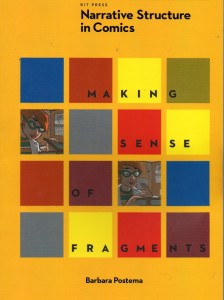 This is a scholarly work on the subject of "Comics" which here includes comic books, comic strips, graphic novels and sundry related items.  The emphasis is on the formal elements of comics, the structure which is used to create narrative.  Definition of terms and the historical development of comics as an art form are relegated to appendices.
Ms. Postema's thesis is focused on the concept of "gaps", which allow and require the implied reader to fill in those gaps and create the narrative.  The combination of pictures and gaps and often words creates an intertextuality that makes the reader a part of the creative process.
There are numerous illustrations in both color and black & white, while other examples are merely described and the student will have to look them up for themselves.   The fragments on the cover are from  Shutterbug Follies by Jason Little, which is also discussed in some detail (including spoilers!) in the text.  By a happy coincidence, this work is being reprinted on GoComics for free.  http://www.gocomics.com/shutterbug-follies/2014/01/06#.UtQkGZ5dWa8
There's a considerable bibliography of both scholarly works and fine comics, and a helpful index.    This is, as stated before, a scholarly work that would most likely be used in college courses dealing with comics.  Bright high school students with an interest in the deeper aspects of comics should be able to handle it.  Id'd also recommend it to comics fans who enjoy examining formal narrative structure.