Book Review: Conquering the Chaos by Ravi Venkatesan
Disclaimer:  I received this book from the publisher in a Goodreads giveaway on the premise that I would review it.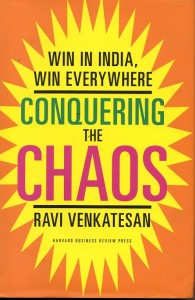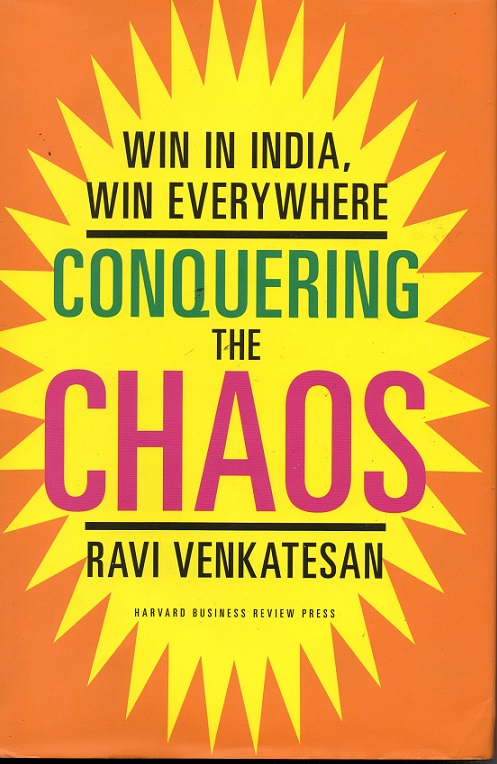 This book is subtitled "win in India, win everywhere" and part of its message is that a multinational company that learns how to compete in India will be able to export that information to the global market.  To be a bit more clear, this book is not about offshoring (moving your night customer service to India, say) or how Indian business people succeed in their own country.  It's aimed at executives whose multinational wants to do big business in India.
Mr. Venkatesan has experience in the field, having served as Chairman of both Cummins India and Microsoft India.   He also interviewed a number of other executives, successful and not so successful, about their experiences in India.
I have to say I really like the cover, with its sunny colors.  Overall, I'd say that the Harvard Business Review Press did a good job on the presentation, and since I don't usually notice such things, that's actual praise.
The book itself is a little dry and heavy on the business jargon; this is not a book for the layperson.  (As it happens, I'm taking courses in Business Management, so the jargon is fresh in my mind.)  Adjusting for that, the examples are interesting, both in the success stories and some of the failures.
The book covers a wide variety of subjects related to doing business in India, from making the right choice for country manager, through building an organization structure that works in the culture, to dealing with the endemic corruption and volatility of an emerging nation.
A fair amount of what the author suggests for success is obvious in hindsight–but in that position I would have had to figure it out by trial and error.  The lessons this book has are most relevant to the India market, but can be adapted to any emerging nation.  Even strictly local businessfolk should be able to find something they can apply to their situation.
There are notes and a good index at the back.  In addition to executives who may be headed off to India or other emerging markets, I would recommend this book to business students looking for something a little different to read and possibly cite.