Book Review: Felifax the Tiger Man by Paul Feval fils
Sir Eric Palmer, the world's greatest detective, is about to retire on his daughter Grace's eighteenth birthday.  He's looking forward to taking up gardening in Cornwall and becoming a full time grandfather (Grace is beautiful and accomplished, surely a suitable young gentleman will snap her up quickly.)  But he's abruptly called in by Scotland Yard.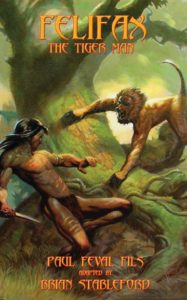 A baffling series of weird incidents in Benares, India have come to the British government's attention.  There are rumors of a "tiger man" in the area who might be a threat to the colonial government.  Would Sir Eric please look into this for them?
So the noble detective (and Grace, having invited herself along) depart for India to learn what they can.  It turns out there really is a tiger man, dubbed "Felifax" by a certain Brahman priest.  This encounter is inconclusive, but back in London, a series of bizarre murders suggest that Felifax is more bloodthirsty than previously shown.
This book is by a second-generation French author of pulp-style adventure fiction, and translated by Brian Stableford, who also provides an introduction, postscript and end notes.  Per Mr. Stableford, Mr. Feval was a very fast writer who didn't do a lot of planning ahead.  In this book in particular, the "Sherlock Holmes meets Tarzan" genre clash produces some plot issues that are clumsily handled, and require authorial juggling to resolve by the end.
It's difficult to discuss this volume without going into heavy spoilers, so I will sum up here, and then go on to a spoiler section.  It's an interesting read with some cool ideas, some bad ideas, and uneven execution.  Content warning for rape and torture.  Recommended for people who like the more out-there pulps.
SPOILERS from this point on–you have been warned.
The Tiger Man's origin story is not quite what you might have expected from my using the word "Tarzan."  Rather than being raised by tigers, young Rama (his real name) is the result of a bizarre mad science experiment.  The priest Sourina and an English doctor artificially inseminate beautiful temple dancer Siva with tiger semen.  This does not quite work, and the result is hideously deformed and stillborn.
However, the English doctor invokes Lamarckian genetics, and has Sourina make Siva  have dubiously-consented sex with handsome young Brahman Rao.  The result of this pairing is a human-looking baby with faint brown stripes, unusual strength and speed, and the scent of a tiger.  Sourina murders Rao and has Siva imprisoned as soon as the baby can survive without her, then raises "Felifax" with tigers in his temple of Kali.  (The English doctor is deported from India for unrelated bad behavior.)
When Felifax reaches adulthood, he seeks freedom in the jungle, but also begins a campaign of terror against Sourina to get the priest to release Djina, a young girl who'd been raised in the temple with him.  These actions set off the plot with Sir Eric.
The first half of the book takes place in India, and the depiction of Benares (now Varanasi) owes more to stereotypes and imaginative fiction than to reality.  If it's any comfort, the second half in England is equally dubious, as it has Newgate Prison and transportation to Australia surviving into the 1920s and a British man doing the "kiss on the cheek to show respect" thing no Englishman of the time would have done.
There's a bit of period sexism and racism, though the latter is undercut when Sir Eric has to back up his fine words about all men being brothers when Grace falls in love with Rama.
There's also a scene where the narration becomes creepy as it points out that Djina has the hots for Rama, she's very attractive, and thirteen is considered of marriageable age in India–but not to worry, eighteen year old Rama thinks of her as a sister.  Thanks, narration.
To keep the story from ending early, Sir Eric is laid up with illness for most of the first half, then retires to Cornwall in the second half.  So the murders (which are nicely inventive) are investigated by a new character, Inspector Sullivan.  He's introduced as the world's second-greatest detective and the personally chosen successor of Sir Eric.
And he does great for a couple of chapters.  But then the author remembers that he has to bring Sir Eric back to tie up the plotline, so Sullivan rapidly degenerates into a complete stooge.  (And then the narration pretends it knew this all along.)  He spends some time pursuing a petty criminal named Blood-drinker (it's never made clear if that's the man's actual name or an alias) who happens to be innocent of these particular crimes, then fastens on Felifax, who's in town with the circus.
Meanwhile, there has been no mystery for the reader, as we know that the evil priest Sourina is the real master of the circus, and is carrying out his vengeance against the British occupiers of his homeland.  Sir Eric figures out the truth, though Sourina escapes in a sequel hook.
One of the most disappointing bits is that although Rama gets to show off his powers on various animals, the author goes to great lengths to prevent him from ever ripping a human opponent apart with his bare hands.  I mean, seriously, you have a tiger man with an anger-triggered super mode, and he never gets to kill anyone?
Oh, and meanwhile, Grace has developed a cure for smelling like a tiger, which allows her and Rama to hook up.
There are lots of individual scenes that are good, but the novel as a whole doesn't hold together.   Read it for the good bits.