Book Review: Hector and the Search for Happiness by François Lelord
Once upon a time, there was a psychiatrist named Hector, who was very good at his job.  But he didn't feel that he was as good as he needed to be, because he had patients who were unhappy, and he didn't know how to make them happy.  So he did what any sensible person would do, and went on a round the world trip to learn more about happiness.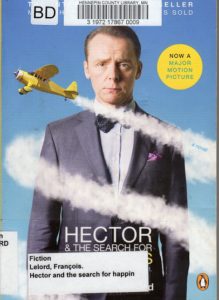 This is the first novel by M. Lelord, which was a big hit in France, then Europe and then did well enough in the United States to be turned into a movie.  It's spawned two sequels as well.  The book is essentially a self-help book written as a children's story.  The language used is simple, and it should be readable even by people who aren't strong readers, with short chapters.
Hector travels from country to country, meeting up with old friends who now live in those countries, and learning something about happiness in each place.  He also spends time "doing the thing that people in love do" with several different women, which is not something I'd put in a children's book, and I have to wonder if they'd even do it in France.
If you take the book as a series of events designed to introduce different concepts about happiness, it's mildly amusing and has some good points.  However, the language sometimes comes off condescending (perhaps a translation problem?) and there's a lot of male gaze going on here when the narrator talks about Hector's interactions with pretty women.
The story plays coy with the reader by not naming countries except China; most of them will still be recognizable from context.  They're mostly seen from Hector's very privileged viewpoint  (sometimes he even admits it).  And perhaps one of the inadvertent lessons of the book is "happiness is easier if you're friends with a powerful crimelord."
All that said, I can see why this book was a hit with certain audiences.  If you like your self-help tips mixed with an actual story, this  is one with plenty of interest-holding events.  If, however, you react badly to perceived condescension, this book may not be your best choice.
Disclaimer:  This book review was sponsored through GoFundMe as an incentive reward.
And now, here's the trailer for the movie.  https://www.youtube.com/watch?v=iWFVAIbIkS4