Manga Review: Rin-Ne Volume 25 by Rumiko Takahashi
Quick recap:  Rinne Rokudo is a shinigami, a psychopomp who guides stray spirits to the afterlife for rebirth.  But he's part-human, so he has to use (often expensive) tools to make up for his weak powers.  That, plus debts his deadbeat father Sabato saddled him with, and being seriously unlucky, keeps Rinne in dire poverty.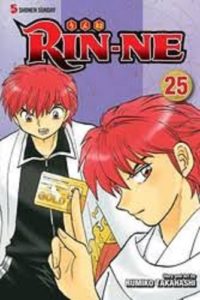 Fortunately, Rinne has his black cat familiar Rokumon and Sakura Mamiya, a mostly normal schoolgirl who can see spirits and is blessed with common sense, to help him.  See previous reviews for more.
This volume opens in June, the rainy season in Japan.   There have been reports that a ghost in a bridal gown and veil has been haunting the neighborhood, looking for a wedding chapel.  Rinne and Sakura quickly discover that the old wedding chapel was turned into a cafe, but why the ghost bride was looking for it is a bit more complicated than it appears.
The final story concerns a summer fireworks display.  Each year for the last three years, one of the shells has burst into the form of a kanji (Chinese ideogram), a different one each year, though they look similar.  Behind this mystery is a tale of heartbreak and ineptitude.
In between, the major story is the discovery of forged shinigami gold licenses.  These licenses show the bearer to be an expert in sending spirits to the afterlife, and come with an increased salary and other perks.  (Rinne only has a silver license.)  To no one's surprise, Rinne's father Sabato is the man behind the forgeries.
What does cause surprise is that Sabato's model for the forgeries is his own genuine gold license.   He's always been a slacker who would rather come up with get rich quick schemes than work as a shinigami, so how did he get that–in high school, no less?  Time for Rinne to finally get some answers from the old man!
Also in this volume are stories involving new recurring characters Annette Hitomi Anematsuri, a teacher who is descended from a French witch and thus has some magic powers she's not that good with; and Ayame Sakaki, a miko (shrine maiden) who has a crush on inept exorcist Tsubasa Jumonji (who has a crush on Sakura, who has feelings for Rinne, who has feelings for Sakura but won't do anything about them because of his poverty.)
The stories continue to be funny and the art is good, but none of them advances the main plot or introduces important characters, so you could probably skip this volume if you're on a budget.