Book Review: One for the Money by Janet Evanovich
Disclaimer: I received this book (and the DVD of the movie) as part of a Goodreads giveaway in the expectation that I would review it.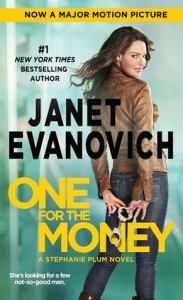 Stephanie Plum is an unemployed lingerie buyer in Trenton, New Jersey.  Her mother pressures her to take an office job at her cousin's bail bond business.  Turns out that job's already taken, but there's a bounty hunter position open.  Having nothing better to do, Stephanie goes for the assignment.
As the first book in the series, this holds together pretty well. Stephanie Plum makes some believable rookie mistakes (but unlike some other hardboiled mystery protagonists, does *not* have sex with the suspect) while also showing some flashes of qualities that would make her a decent bounty hunter once she's got some experience under her belt. As a solo book it's a teensy unsatisfying, as there are some characters that are obviously setups for future volumes.
The movie is notably much "prettier" than the book, playing up the romantic comedy aspects. For example, movie Stephanie's outfits are much less eye-hurting than the ones described in the book.  Also, book Stephanie's apartment is pretty much down to the bare walls as she's hocked everything for food and rent, while movie Stephanie's apartment is tastefully decorated.   Updating it to 2011 does have the salutary effect of giving Stephanie a cell phone which cuts some tedious shenanigans with her landline in the book.